Please Note:
The information contained in this page was based upon a trip made in
September 2011
, and the details are now
12 years old!
. I haven't checked it so, so use at your own risk. Access changes, hotels close, volcanoes erupt, etc ...
I decided to put together some details relating to our ski mountaineering trip to Chile in September 2011 that may prove useful if you are planning a trip there yourself. Click on any of the photos / photo diagrams to view them larger. The colours used in the photo diagrams to mark routes do not correlate to ski resort grading for runs. I just used those colours to make it easy to differentiate between routes: red for ascent route, blue for descent route (if ascent route not followed), and yellow for a possible other ascent route.
Transport within Chile
The bus network is excellent, but if you are short of time, and need to get to the base of some volcanoes easily, you are best to hire a car. We used United Rent a Car, which we had arranged in advance of arriving. They don't have an office at Santiago airport, but we were met there by a representative from the company, and the car was in the nearby short stay car park. We got a "C-class" car, which I am glad of, as despite asking by email about the rear seats folding down, they didn't. However, our skis were just able to fit diagonally across the back seat, so no problem. If there is more than 2 of you, get a bigger vehicle or a ski rack. The car was nearly new when we got it, and some kind of Samsung/Renault, which was fine for what we wanted. We only got stuck once, and on that occasion, a 4WD would probably have struggled as well. We hired snow chains, and used them that day we got them to get up to the Las Trancas. It is definitely worth having them. After 2500 miles of driving, the car was returned far from new anymore, having endured long distances on potholed dirt roads. It survived though without problem. I was impressed/very surprised!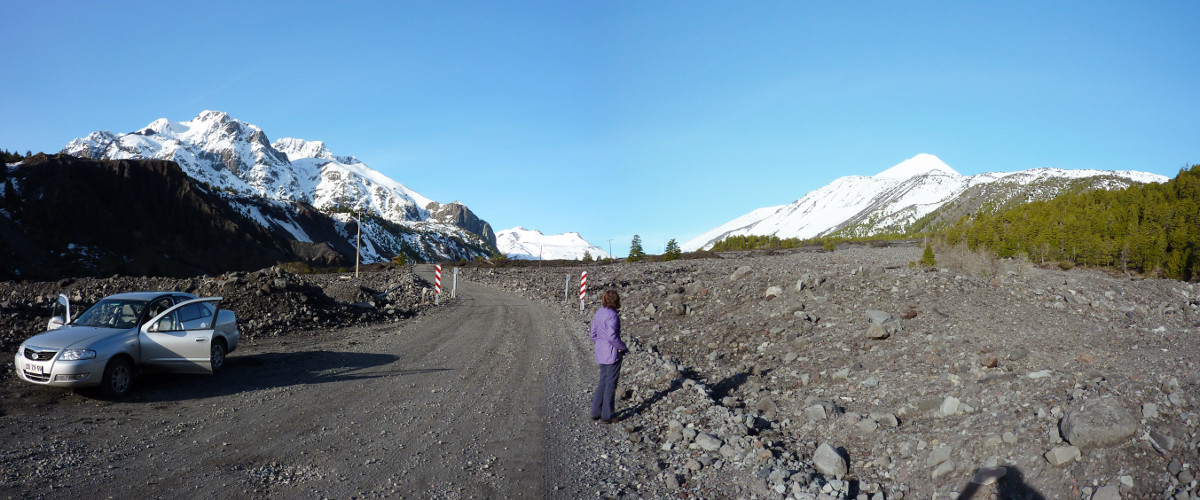 We found that getting between areas was not often easy or quick without heading back to the Panamericana, travelling along that, then back inland to the destination. This added time and miles, but having got stuck, and sometimes there genuinely isn't a road that saves any distance, we kind of accepted that this was the logical way to go.
We had also considered heading into Argentina on our trip, paricularly if there was a chance of the weather being better there. In the end, we didn't have the need or time to go, but we had arranged the necessary passes through United to take the car into Argentina. It was an expense that we didn't need in the end, but they need at least 10 days notice to get the passes, so you really have to decide before you go. The passes were in the car when we got it. What it does mean is that if for some reason you have a problem with the car, or want to swap it when you arrive, the passes are specific to the vehicle...
Accommodation
We took a tent with us, but didn't use it. It was more of a precaution should we find ourselves stuck. However, there are a lot of decent places to stay, and we didn't have a problem where ever we stayed. I will mention the places we stayed within each description for the volcanoes.
When to go / weather
We went September 2011 for just under 3 weeks. In that time, we had 5 days of rain, and one of those was on the drive down on the day we arrived (resulting in a lot of snow falling in the mountains, and the use of snow chains). What we found was that there were definite blocks of good and bad weather. For example, after the first days bad weather, it was very calm and clear for 3 days, then very wet and windy for 2 days, then very clear for 4 days, then very wet and windy for 2 days, then very calm and clear for the rest of our trip. I suspect we were very lucky. In October 1997 we travelled through the same area, and it rained most of the time! We had been told by a few people on our trip that the weather had been bad prior to our arrival, so I do think we had been quite fortunate with our timing.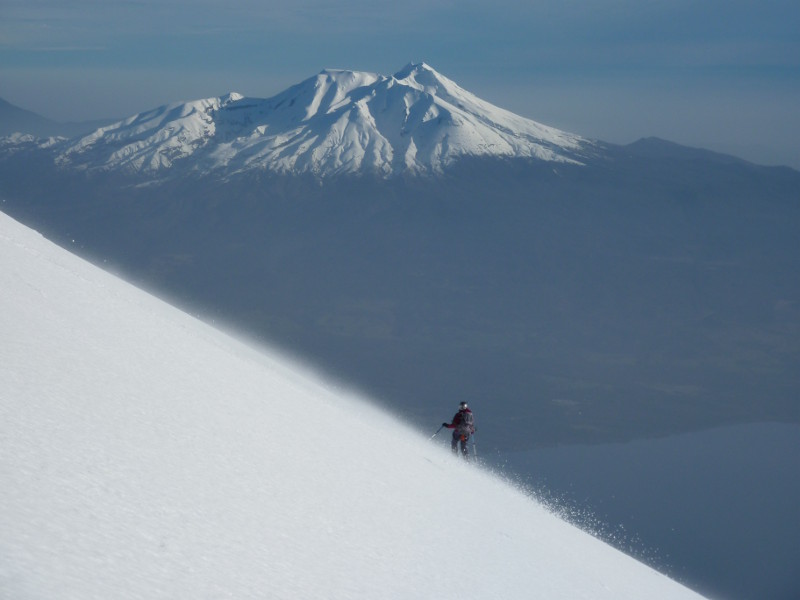 The locals used and seemed to rate snow-forecast.com. You can select the ski resorts on the volcanoes. The times we had access to it, we found it was surprisingly accurate. The "sister" site of mountain-forecast.com could also prove useful.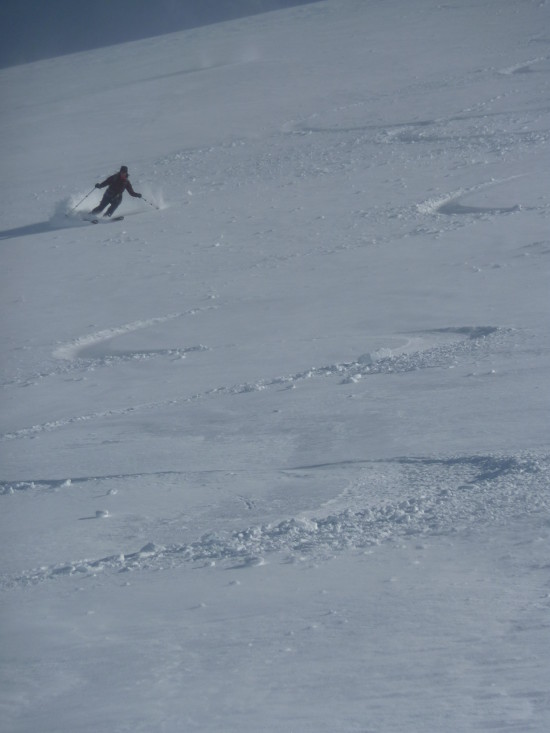 Navigation / Routes
For the roads, we bought a Reise Pocket Atlas to Chile. It was rubbish and inaccurate. We saw an old copy of the Turistel guides, and they look like the thing to get, but not sure if you can still get hold of them.
As for the mountains, I bought a couple of maps before going (for Pucon and Nevados de Chillan), both "TrekkingChile.com" maps. As a general "what's where" map, they are fine. For detailed navigation, forget it. We had a basic GPS with us, and I marked our ascent routes with various waypoints, so that we could navigate back using them should the weather deteriorate. Given that we always set off in good weather, and the routes were mostly straightforward, this seemed like a sound approach. When I tried to reconcile our position on Chillan Nuevo with where I knew we were according to features on the map, the position on the GPS put us approximately 2km out! I trusted the GPS over the maps here. The military IGM maps could well be better if you can get hold of them.
Our main source of information was the Chile - Argentina Handbook of Ski Mountaineering in the Andes by Frédéric Lena. It's a bit quirky, and takes a bit of getting used to, but is very useful. We didn't always follow the routes described, and never managed any of the times! Although all our trips were day trips, we were always well over the timings. It didn't matter, as we did them all in the daylight hours, but just worth bearing in mind. He even states in the guide that they don't include time for breaks, photos, etc! I will refer to the routes described in this guide in relation to the routes we took, and how they differed. It is not the aim of these pages to repeat a lot of what is in the book, but to supplement the information.
As for timings, all of the routes were done in daylight hours (about 7.40am to 7.30pm in September). Our longest days out were over 10 hours (Llaima & Nevados de Chillan), but these were related to the greater distances involved, plus on the actual days for both of these volcanoes, it was very warm. Osorno took us longer than we would have expected given the short distance involved, but that was due to the very strong winds that picked up in the afternoon, which slowed us down considerably.
Access to the volcanoes
All of the volcanoes we did were accessible from ski areas. This meant that there were roads to take you through the long forested approaches right upto the snowline, which was convenient. The only hill we "registered" for to climb was Volcan Osorno (see specific tab on Volcan Osorno for details) - other than that, we just got going.
As to whether you need a guide or not, it is up to you. We never felt the need for one, but if you aren't as confident, then it may suit you to employ a guide. Navigation was generally straightforward, there was minimal crevasse risk, and the length of days were comparable to days we are used to back here.